Decorating the Christmas tree with special ornaments has always been fun to do. Most of our ornaments have a small memory we associate them with. Some of the ornaments have been special gifts, some were made by me, and some were made by family members, including my boys. That's what makes them special.
Over the years, I have made many Christmas tree ornaments, knowing they would become small treasures that would be passed on to the boys as they matured and had families of their own.
This one below, in crewelwork and embroidery, is worked on both sides and is stuffed. The ornament was made in 1983, the year before my second son was born.
The Peter Rabbit ornaments were embroidered on felt. These ornaments were made from a small kit (a Dimension kit)  in 1979 for my first son.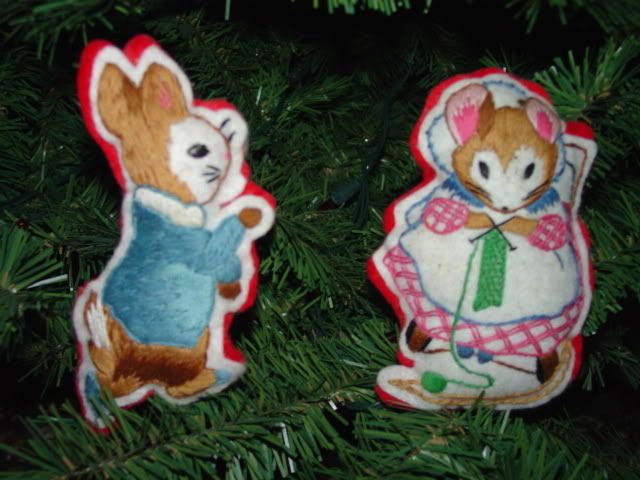 The cross stitch ornaments were all made in the 1980s and the designs were found in several ornament design books. I used even weave linen and cotton print fabrics for the ruffles. I have made about a dozen cross stitch ornaments like these.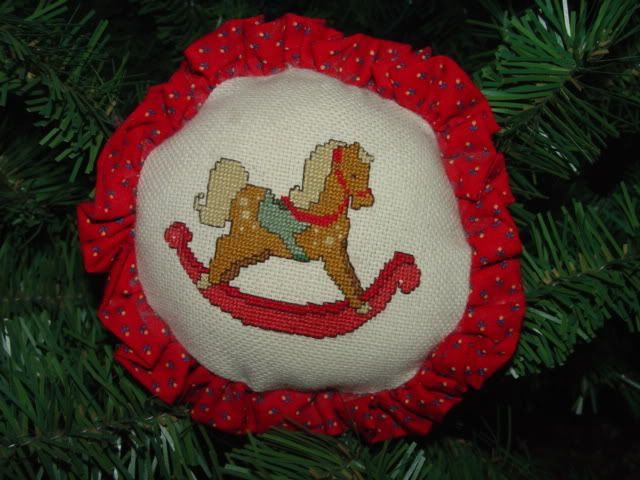 I also cross-stitched several Santa pictures that only come out for the holiday season. Some years they are hung on the wall, other years they are part of a table display.
Then there are the special Christmas ornaments made by the boys. Many were made during their early crafting years.  They worked with wooden objects, crepe paper, beads and wire, papercuts, and faux stained glass made with beads.
I love the small stained glass ornaments that I helped the boys make one year. They were too young to create detailed ornaments back then, but the little stained glass kits made with plastic beads were ideal for them.
The plastic beads were used to fill small metal frames. After the frames were filled with the beads, the ornaments were heated in an oven. Once cooled, the ornaments looked like stained glass.
They have always been exceptional ornaments on our tree because the lights make the ornaments shine — they are beautiful. This year, these ornaments are being given to the boys for their own Christmas trees. In fact, this year, each of the boys get a Christmas box of special ornaments for their trees.
The special Christmas ornament for 2013 is a memory ornament for our youngest son who passed away several months ago. This ornament is hanging in the center of our tree.
Other special Christmas ornaments were made with my granddaughter this year. We worked with die-cut papers, glue, glitter, rubber stamps, and satiny ribbons. She was so proud to take her handmade glittery ornaments home to hang on her Christmas tree.
We wish everyone a very merry Christmas!